M

acarons 43

These delicious macarons are a gorgeous after-dinner treat! A sweet dessert stuffed with chocolate, whipped cream and Licor 43.

Recipe from Suusjes Soesjes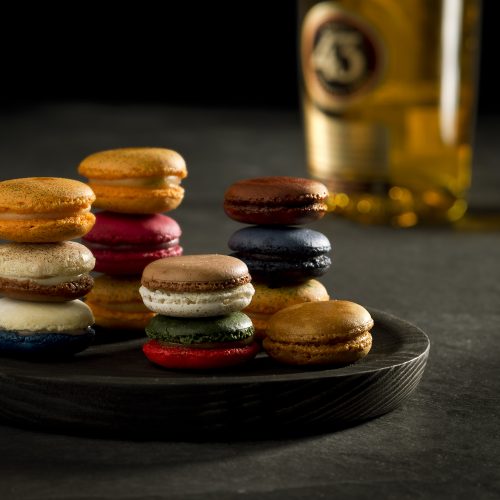 M

ACARONS 43
Ingredients
1 tbsp Licor 43 Original
120 g powdered sugar
65 g ground almonds
50 g granulated sugar
2 large eggs
0.5 tbsp orange essence for filling
60 g dark chocolate cut in pieces
15 g unsalted butter
40 ml whipping cream (1 1/3 oz)
M

ethod
Preheat the oven to 160 ° c
Beat only the egg whites in a large bowl until soft foam.
Add the ground almonds and icing sugar in a food processor and grind to a fine whole.
Beat in small amounts of sugar through the egg whites to create a firm, glossy meringue.
Whisk the orange essence with the meringue.
Spatula calmly and in small quantities the extra almond flour into the batter.
Spoon the batter into a pastry bag and spray rounds on a baking sheet covered with baking paper. Tap the baking sheet a few times firmly on a work surface to remove any air bubbles.
Let the macarons rest for 30 minutes at room temperature.
Bake the macarons 15 minutes in the preheated oven and let them cool 10 minutes then get the macarons careful of the baking paper and let them cool completely.
Melt the chocolate and butter au Bain-Marie and serve.
Add the Licor 43 Original to the cream carefully.
Allow the mixture to cool for 10 minutes and set it for 30 minutes in the refrigerator until thick and spreadable.
Use the mixture to stick the macaroons together.
Licor 43
Cocktails
Licor 43
Desserts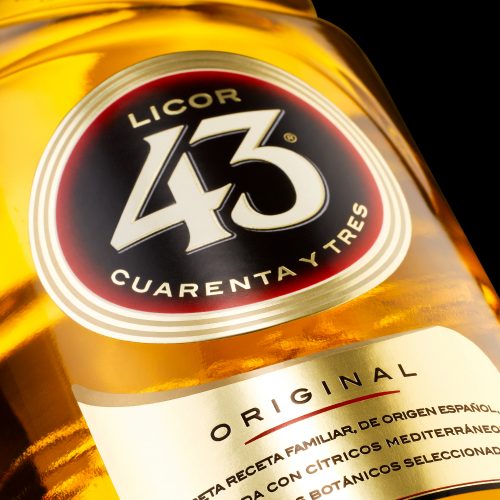 W

hy the number 43?

Licor 43 derives its delightful taste and golden lustre from an age-old recipe consisting of 43 natural ingredients.
A

top secret recipe

The mix of secret ingredients is not enough to create Licor 43. Only the sum of top expertise, the Zamora family recipe and perfect timings and temperatures; can turn all ingredients into gold.
A

n unmistakable taste

Taste is the secret of its success. Licor 43 emits a bright golden glow that reflects its Mediterranean heritage. Although perfect when enjoyed pure with or without ice, its flavours are so harmonious that it simply invites other drinks to be mixed with it and is unmatched in its versatility.
A

n award winning liqueur

Over the years, our followers have proven that Licor 43 is a unique, inimitable liqueur, famed for its outstanding taste and delicious variety of serves. Seeing our impressive award collection, they aren't the only ones to think so.