Cheesecake 43
Just when you thought that cheesecake could not get even better!
CHEESECAKE 43
Ingredients
8 tbsp Licor 43 Original
200 g Bastogne Biscuits
100 g melted butter
12 sheets of gelatine
500 g cottage cheese
200 g caster sugar
1 orange
250 ml whipping cream (8 ⅓ oz)
4 tbsp Orange Marmalade
M

ethod
Soak the gelatine in cold water for 5 minutes.
Crunch the Bastogne biscuits finely in a food processor.
Melt 100g butter in a small pan and stir in the crumbs.
Grease a cake tin, and cover the bottom covered with the cake mixture and press firmly. Put in the fridge to harden.
Grate the orange peel.
Press the Orange juice in a small pan and heat gently.
Squeeze the gelatine, get the orange juice pan from the heat and dissolve the leaves, stirring in the warm orange juice.
Let the mixture cool down.
Stir in a bowl the cream cheese, sugar, orange peel and mix, then add the Licor 43 Original until well blended.
Beat in another bowl the cream until stiff and stir it lightly into the cream cheese mixture.
Spread the cream cheese mixture smoothly over the crumb bottom of the cake.
Leave the cheesecake in the refrigerator about 3 hours before serving.
Garnish the cheesecake with orange wedges.
Let the Orange Marmalade gently warm up in a pan with 1 tablespoon of water.
Let this mixture to cool slightly and then stir in 4 tablespoons of Licor 43 Original. Pour over the quarter and the orange wedges.
Put the cake in the fridge to stiffen until the cake is ready, enjoy!
Licor 43
Cocktails
Licor 43
Desserts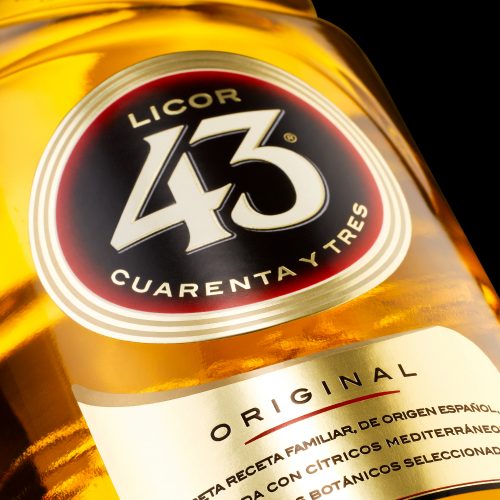 W

hy the number 43?

Licor 43 derives its delightful taste and golden lustre from an age-old recipe consisting of 43 natural ingredients.
A

top secret recipe

The mix of secret ingredients is not enough to create Licor 43. Only the sum of top expertise, the Zamora family recipe and perfect timings and temperatures; can turn all ingredients into gold.
A

n unmistakable taste

Taste is the secret of its success. Licor 43 emits a bright golden glow that reflects its Mediterranean heritage. Although perfect when enjoyed pure with or without ice, its flavours are so harmonious that it simply invites other drinks to be mixed with it and is unmatched in its versatility.
A

n award winning liqueur

Over the years, our followers have proven that Licor 43 is a unique, inimitable liqueur, famed for its outstanding taste and delicious variety of serves. Seeing our impressive award collection, they aren't the only ones to think so.