CACAO Pudding 43
This luxurious hot chocolate mini dessert with decadent white chocolate centre it's surprisingly simple to make!
CACAO PUDDING 43
Ingredients
6 tbsp Licor 43 Original
125 g butter
125 g dark chocolate
50 g sugar
50 g flour
100 g white chocolate
2 eggs
2 egg yolks
6 silicone pudding cases or ramekins
Icing sugar
Garnishing: Sprigs of mint and raspberries
M

ethod
Preheat the oven to 180 degrees Celsius.
Put the butter and all but six pieces of the chocolate in a bowl and melt it in the microwave, stirring every 30 seconds.
Whisk together the eggs, egg yolks, sugar and Licor 43 Original until frothy and add the chocolate mixture.
Stir, then fold in the flour.
Divide the mixture among the ramekins and add the remaining white chocolate, carefully pushing a single piece into the centre of each pudding.
Bake for 12 minutes, remove from the oven and allow to cool for just a couple of minutes.
Garnish with mint and raspberries.
Serve with a scoop of vanilla ice cream and, of course, a complementary glass of Licor 43 Original.
Licor 43
Cocktails
Licor 43
Desserts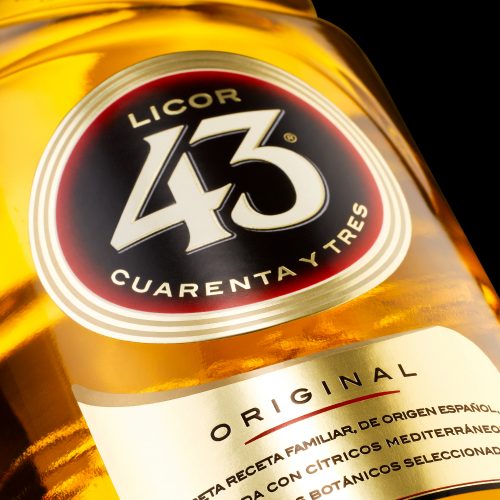 W

hy the number 43?

Licor 43 derives its delightful taste and golden lustre from an age-old recipe consisting of 43 natural ingredients.
A

top secret recipe

The mix of secret ingredients is not enough to create Licor 43. Only the sum of top expertise, the Zamora family recipe and perfect timings and temperatures; can turn all ingredients into gold.
A

n unmistakable taste

Taste is the secret of its success. Licor 43 emits a bright golden glow that reflects its Mediterranean heritage. Although perfect when enjoyed pure with or without ice, its flavours are so harmonious that it simply invites other drinks to be mixed with it and is unmatched in its versatility.
A

n award winning liqueur

Over the years, our followers have proven that Licor 43 is a unique, inimitable liqueur, famed for its outstanding taste and delicious variety of serves. Seeing our impressive award collection, they aren't the only ones to think so.