Baristo Iced Frappé
A real treat for all of you out there with a sweet tooth. This coffee cocktail balances perfectly sweetness and bitterness!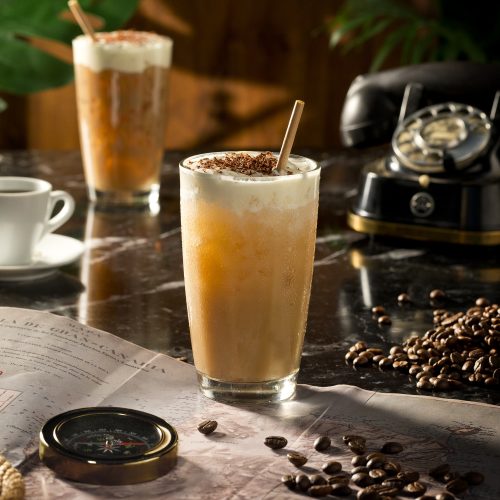 Baristo Iced Frappé
Ingredients
50 ml Licor 43 Baristo (1 ¾ oz)
50 ml milk (1 ¾ oz)
Double shot Espresso
Garnishing: Whipped cream and shaved chocolate.
M

ethod
Pour the Licor 43 Baristo, milk and fresh espresso into a shaker full of ice.
Shake and strain.
Pour it into a tall glass or jar over cubed ice.
Garnish with whipped cream and shaved chocolate on top. Serve with a paper straw.
Licor 43 has discovered one of the last coffee plantations in Europe
The Agaete Valley is a hidden paradise in the Canary Islands with incredibly rich volcanic soils. For over 200 years, local farmers have grown coffee here at an altitude of around 400 meters in the shade of banana, mango and papaya trees.
A

n exceptional arabica typica coffee with exotic tasting notes

Exclusive Canarian coffee is truly outstanding, with rich nuances of flavour including chocolate and dried fruits that blend beautifully with the vanilla, botanical and citrus of Licor 43 Original. Together, they create the sublime new taste of Licor 43 Baristo.
A

tribute to the coffee universe

Inspired by the dark colours of coffee and by the art-deco style in classic cafes at the beginning of the XX century, Licor 43 Baristo is a homage to the barista profession: experts and artists in coffee. An elegant and premium liquid for food and drinks lovers.
Caring for your guests
In Gran Canaria, at the start of the last century, people grew coffee plants in their gardens to take care of their guests in a very special way: with a cup of their own coffee after lunch. Today, Licor 43 Baristo lovers can surprise their guests after lunch with a drinking ritual for this sophisticated liqueur.